CM 009: Thiel Fellow Charlie Stigler on College and Career
Podcast: Play in new window | Download | Embed
Subscribe: Apple Podcasts | Android | RSS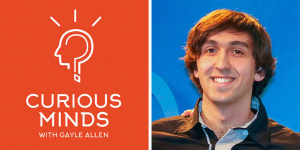 At the age of 16, Charlie Stigler built SelfControl, an app designed to block out online distractions. It has been downloaded by millions. Encouraged by that success, two years later, Charlie founded a successful ed tech company, Zaption, which rethinks the use of video for learning. He did both before the ink was dry on his high school diploma.
After graduation, Charlie did what everyone expected him to do. He headed off to college at Columbia University. Two years later, even he was surprised when he decided to drop out and become a Thiel Fellow in 2012.
This week, in a special edition of Curious Minds, I share interviews with four young people, ages 18-22, each of whom decided either to drop out or never attend college, in order to pursue work that mattered. Each is either a current or past recipient of a Thiel Fellowship, a program founded in 2011 by Peter Thiel to encourage young people to sidestep college and a traditional life path, in order to chart their own course as entrepreneurs.
In this episode you will hear:
how the projects that got Charlie into college were the very things he had to give up once he got there

ways friends and family responded to his decision to choose a different path

what exposure to can-do, will-do entrepreneurs helped him see

what we lose when everything is done for us

how he learned to decide what structure looked like for him

how his real learning was taking place outside of high school and college

how high school did not support independent entrepreneurial thinking

advice for young people

how we delay and support young people in not knowing what they want to do rather than encouraging them to find out and supporting that

how technology and artificial intelligence and the rapid pace of change is helping us rethink our shoulds
Links to Topics Mentioned in this Podcast
If you enjoyed the podcast, please rate and review it on iTunes. For automatic delivery of new episodes, be sure to subscribe. Thanks for listening!
Thank you to Clark Nowlin and his sound engineering team at Clarity Podcasting and to Emmy-award-winning Creative Director Vanida Vae for creating the Curious Minds logo!