Words to Live by (for now)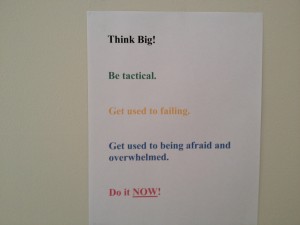 I typed the following statements and posted them on the wall.   The first two are direct quotes from Joost at MIT.  The other three are mine.  The most menacing of the five, Do it NOW!, seems to be the most motivating, so far.  It's hard to procrastinate with that red scream in front of me.
I heard a few others that I still need to add to the list.  Most come from Joanna Barsh of McKinsey.
Be genuinely curious.
Recognize your own mindset.
Leaders see opportunities everywhere.
Today, what do I want for and from myself? (aka, don't give your day away)
Dislike your job? Wish you were doing something else, but can't pull it off right now? Pretend you're a consultant.
Finally, this one's all mine: How much does fear run your life?  Do what you're most afraid of (or start small, and do what you're a little afraid of – you'll find it's not so bad.)