Why Innovation Needs Diverse Perspectives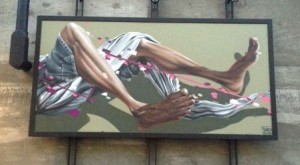 Whenever you're tempted to dismiss your perspective on something, think again. It matters. When you value your perspective, and the different perspectives others hold, you can rethink something that's been there a while, like a time-worn story, a seemingly ordinary product, an abandoned research study, and so on.
So, I ask you, what do a Broadway show, a film, an eyeglass company, an online crisis center, and an LSD research study have in common? Each took something that already existed and rethought it in compelling ways. How? By leveraging a different perspective.
Remember Lin-Manual Miranda, composer, lyricist, and actor "In the Heights?" Well, he's at it again, bringing his perspective to a hip-hop interpretation of the story of Alexander Hamilton and his fateful duel with Aaron Burr. (Check out the article, All about the Hamiltons.)
What about Selma, Ava DuVernay's recently released film based on the Selma to Montgomery, Alabama voting rights marches led by James Bevel, Hosea Williams, and Martin Luther King, Jr., of the Southern Christian Leadership Conference, and John Lewis of the Student Nonviolent Coordinating Committee in 1965? DuVernay's interpretation of the events captured her perspective on all the players involved, giving us a different and compelling take on what took place.
What about Warby Parker, a company that takes a different approach to eyewear in the ways they design frames – more cheaply in house – in the ways they work with customers – via mail – and the ways they give back – for every pair of glasses sold, they distribute a pair to someone in need through a partnership with VisionSpring?
How about Crisis Text Line, a text-based reimagining of the former phone crisis hotlines that's improved response strategies by studying large quantities of text exchanges with the use of data science and thoughtful algorithms? (Check out the article, R U There?)
Finally, how about the ways researchers are rethinking LSD research to benefit late stage cancer patients by methodically studying what the drug does to areas of the brain, in order to see how this response might better serve dying patients and also contribute to research on depression and other mental illnesses? (Check out the article, The Trip Treatment.)
New perspectives. Fresh takes. Diverse opinions. We need them. They expand how we think about things. They solve big problems. And they capture our imagination in ways we never knew they could.