We're Running out of Excuses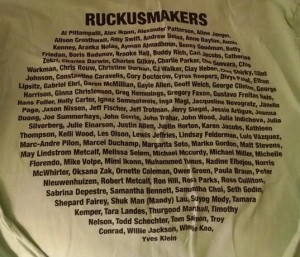 "Complaining is stupid. Either act or forget." – Stefan Sagmeister
It's getting so that the only reason we won't spend our time doing the work we want to do will be because of us.
Because we're afraid. Of criticism. Of how hard it might be. Of how long it might take to get good at it. Of the dip.
But, here's the thing. We won't have any excuse not to. Why? Because there are too many options out there to make it happen.
Let me show you what I mean.
"I'd like to learn how to do that, but I can't find a class that works for my schedule."  What about an online course, a YouTube video, a podcast series, Google hangout?
"I'd like to make my work better, but I can't find anyone to give me feedback."  What about a meetup group, a Twitter chat, a blog, a Pinterest board, a podcast?
"I'd like to __________ (fill in the blank with, say, paint, write, make music, create a film, etc.), but I can't afford to do it."  What about Kickstarter or Indiegogo or Patreon?
Pretty soon (we're pretty much there), there'll be nowhere to hide. No excuses to make. Because no one will believe us.
(Maybe they already don't.)