Want More Happiness in Your Life? Play.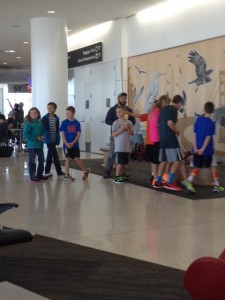 I'm sitting in the San Francisco airport. Our flight's been delayed three times. There are lots of different ways to react to these delays, and I'm watching all of them play out.
The one that's going to stay with me, though, is the image of a guy with a baseball cap leading a group of kids (not his own) in play.
He's just an ordinary guy with a "let's play" attitude, someone who's clearly got camp or similar experience working with kids. Like a pied piper, he asked a group of kids if they wanted to play and then led them through a series of games, taking advantage of the physical features specific to the space.
From where I sat, it looked like a lot of fun.
The kids got to move and giggle and take their minds off the delay. The adults around them got to lower their shoulders, soften their features, and lighten up a little bit.
Stuart Brown, Founder of the National Institute of Play, and author of Play: How It Shapes the Brain, Opens the Imagination and Invigorates the Soul, spoke to Krista Tippett recently about the power of play in an episode of her podcast, On Being.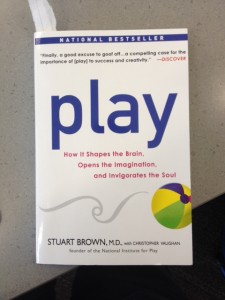 Brown began to study play through his psychiatric work with violent criminals. In listening to their stories, he discovered a pattern: throughout their childhoods: they'd been denied the opportunity to play. This pattern led him to spend time with researchers like Jane Goodall, in order to learn everything he could about the science of play for animals and humans. What he recognized was the non-trivial need we all have for play.
Increasingly, researchers are realizing that we need opportunities for play every single day. Did you get that? Every. Single. Day.
Play is restorative. It sparks new insights, restores us, and opens us to new possibilities.
Have you played today?