Trying to Accomplish a Big Goal? Create Urgency.
When's the last time you accomplished a big goal? What were the circumstances that helped you do it?
I bet one of them was urgency.
Recently completed a degree? Written a book? Learned a programming language? How did you use deadlines to your advantage? What about material and financial constraints?
We know that big goals tap into our desire to accomplish something important before we die. Candy Chang's "living work of art" supports that.
In 2011, Chang, New Orleans artist, designer, and urban planner, took an abandoned home in New Orleans and turned it into a "living work of art" by creating "an enormous chalkboard running the height and width of one side of the abandoned home" and stenciling on it the words, "Before I Die …" at the top of the wall with space after space for passersby to complete the sentence in ways meaningful to them.
Chang's installation was such a big hit – the wall filled in a matter of days with desires small and large – that there are now installations like it around the world. Chang worked with collaborators to develop a toolkit to support the spread of the "Before I Die . . . " movement.
Many of us want to accomplish important things before we die. Creating a sense of urgency can help us do that. Is there a useful set of beliefs to support our work?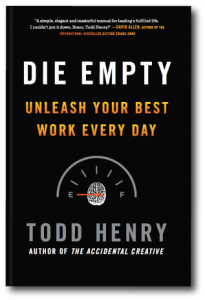 Todd Henry, author of Die Empty, shares a set of beliefs he relies on to stay motivated. These include:
Your days are numbered – finite – someday they will run out.
You have a unique contribution to make to the world.
No one else can make your contribution for you.
Avoid comfort – it is dangerous.
Your understanding of your 'sweet spot' develops over time like film in a darkroom.
You must plant seeds today for a harvest later.
Each of us has important work to do. How will we create the urgency we need to do it? What strategies have you tried?