There is an "i" in Education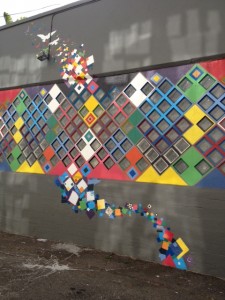 This week I heard Una Ryan of Diagnostics for All speak to our MIT Sloan Fellows cohort.  Una has excelled in academia and in the business world. She's an incredibly intelligent and dynamic force of nature, and her success lies in her deep understanding of science and systems thinking, her business acumen, her passion for making a difference, and her immense impatience.
Una has no interest in tweaking systems to effect change.  She develops her own.  Una worked with a research team to develop extremely low-cost diagnostic tools, no larger than a stamp, to serve the needs of patients in countries where health care systems are much less robust than what the average American citizen experiences.
Una's impatient. She no longer wants to tinker on the edges of any type of health care reform.  She wants to make a difference.  For her, that has meant a radical rethinking of current systems and structures. She funds her mission-based, non-profit work with microfluidic diagnostic tools by licensing and selling those tools in the for-profit market.  Incredible!  She also takes into account the entire system of health care for those she serves – from human health to animal health to environmental health.
Today, our finance professor, the amazing Andrew Lo, talked about how technology has transformed the finance industry in powerful ways.  He, too, talked about rethinking systems and approaches, for example, getting beyond tinkering on the edges of cancer research.  He talked about leveraging the tools of finance to address significant social challenges.  Given the tenuous state of the financial market, he encouraged all of us to engage in innovative work – said that when financial markets are uncertain now, more than ever, is our time.
Thoughts from both individuals have left me with questions about what this means for the field of education, schools in particular.  What does innovation look like in this world?
Well, I'd argue it looks a lot like Una's world.  If we can get beyond state funding for public schools.  If we can get beyond fundraising and tuition payments for private schools.  If we can marry the for-profit world – the world of the marketplace – with the world of schools and schooling so that what's created and developed in schools and by stakeholders in schools is also profitable in the marketplace, what could that look like?  I'm not talking about the current for-profit model.  I'm not talking about another charter school.  I'm not talking about another school in a public school district.  I'm talking about something else entirely.
And I think that leveraging the tools of finance AND the tools of technology AND the rich resources of human capital, of the desire to have an impact, of the desire to create, can support what this new approach to schooling might look like.
Like Una, I've grown very impatient . . . stay tuned . . .