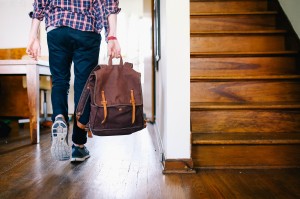 It's great to be outside and run errands at the same time.  It's even better when you don't need a car to do it.  Living in a city means you can walk everywhere and hop on and off public transportation when you get tired or have too much to carry. It also means you can strike up conversations with people that can get you thinking about connections between what you're doing – often mundane – and what you do for a living (not that you need to live in a city to do this, but in all my many moves, I've found city folks often have the most interesting stories and information to share).
Case in point: I was walking slowly through a yoga store in the city (great way to tell if I'm enjoying what I'm doing b/c I rarely walk slowly) – Lululemon in the East Village – and happened on a wall filled with about 12 framed, one-page, goal sheets – one for each person employed by the store.  I was struck by how public these postings were, as well as how inspiring, personal, and compelling.
Each person wrote his/her goals in a similar way – in the form of what's called SMART goals (specific, measurable, attainable, realistic, and timely).  They were incredible!  As I was reading them, one of the employees noticed and shared with me how powerful this exercise has been for him.  At the same time, another employee was taking down one of his former colleague's goals.  Turns out she'd accomplished them and was headed to Toronto to begin living out her dreams.
Speaking to him, hearing about his former colleague, and reading through the goals they had listed got me thinking.  How do we make goal setting a constant part of what we do with students in and out of schools?  How do we do the same with faculty, staff, and everyone who's part of the organization? With students, it's simple . . . they learn to goal set and, with the ongoing support of peers and adults, turn to their goals for direction and inspiration.  With adults, it's the same . . . they, too, need opportunities to ponder next steps, especially if schools really are learning organizations.  The goal shouldn't be to stay somewhere forever.  It should be to keep learning and growing.  It's not about loyalty.  It's about bringing your best self to what you do each day.
If we could do this with our students from the very beginning of their learning journeys in schools, how incredible would that be?