The Power of a Good Story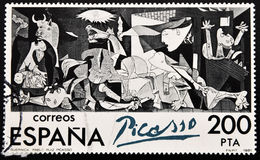 This past week I stood in front of a painting I've wanted to see in person for nearly three decades.
Picasso's Guernica.
It was an incredible feeling. Like looking back on someone – me – from another place and time. I realized how much of me was tied to that painting.
And it all started with a good story.
When I was a teenager, I read Chaim Potok's book, My Name is Asher Lev. This was pre-Internet, so it wasn't a book I knew anything about. I'd never heard of the author. It was just the act of a young person browsing the shelves on a summer afternoon.
The story of Potok's fictional character, Asher, fed my curiosity about so many things I'd never known. Potok introduced me to the world of Hasidism, to the world of art history, to the history of Spain and the Spanish Civil War, and to ways art speaks to and captures events in history.
I was able to make the connection between the world of Hasidism in the book and the Hasidic community in my hometown. From there, I delved into the history of Judaism and all I could read, fact and fiction, about the Moscow pogroms and the Holocaust.
At the same time, I learned everything I could about Picasso and Guernica and all of the art and history that informed it. I started to see how important artists "stand on the shoulders of giants."
Along the way, I read story after story by Potok. Though now dead, at the time I first read him, he was still publishing new works. While I'd known he was a rabbi and a teacher, I'd only recently learned he was also an artist and that, like his character Asher Lev, he often painted themes considered unacceptable by his religion.
Recently, I also learned that a high school art teacher required his students to read Asher Lev. They loved it. Asher's struggle as an artist and outsider in his own school and community often validated what they were experiencing.
There are some stories that are just stories. There are others that can change a life. This stories definitely changed mine.
What stories have changed yours?