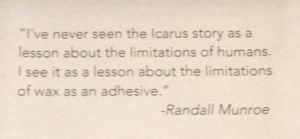 Remember the story of Icarus?
Icarus's father created wings of feathers and wax for him, so that he could escape from Crete. He warned Icarus to fly far enough away from the sun, so that the wax wouldn't melt. Icarus ignored his father's warning and flew too close. The wax melted, his wings fell off, and Icarus plummeted to his death in the sea.
We often cite this story as a cautionary tale. Our mindset has us believe that Icarus is too proud. He's too ambitious. He's too curious for his own good.
What if we reframed that mindset? What if we viewed Icarus's story from a different perspective?
Icarus was a risk taker. He was willing to fly as high as he could in his manufactured wings just to see how high he could go. He was courageous. He was fearless. He wanted to discover for himself what flight could mean. He was a trendsetter, an optimist, an entrepreneur.
In our roles as leaders, we have so many opportunities every day to reframe our mindsets. Just writing the more positive interpretation of the Icarus story was energizing. It felt a lot better than writing the negative one. When we reframe, we feel different.
What if we made it a point to reframe in order to find something positive, even inspiring, in the situation?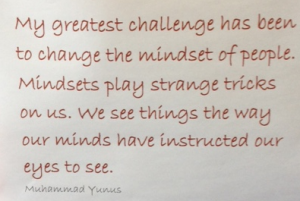 How about 3 simple steps to get there?
Take in the situation. See it.
Recognize that you are seeing (and feeling) the situation through a mindset that you hold. That mindset is informed by certain values that inform how you see the world and your place in it. You have a certain perspective. How do you feel?
Challenge yourself to see the situation with a different set of values. Challenge yourself to use those different values to interpret the situation you're in. How do you feel now?
Let me know what happens . . .