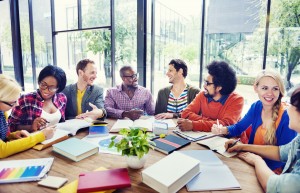 Did you ever hear of the Research Center for Leadership in Action at NYU's Wagner School?  I hadn't.  But I had the good fortune of connecting with the center's Deputy Director, Amparo Hofmann-Pinilla, who took the time to talk to me about the research that's taking place there, locally, nationally, and globally, with adults and youth.
I was particularly energized by the ways in which they talk about their approach to leadership research:
RCLA scholars move beyond questions of who is a leader and what leaders do, to how leadership is practiced and how leadership makes change possible. We conduct research with leaders rather than on leaders to uncover and cultivate insights that describe leadership clearly and with an authentic voice.
Researchers research with leaders and participants, often through a collaborative inquiry approach.  By engaging in research together to learn more about the "how" of leadership, everyone involved gains greater insight into all of the facets of the change process.
The tools they use to examine the practice of leadership can benefit all leaders.  At this point, I'm trying to gather 7-9 school leaders to use these tools to examine their own practice, in order to reflect, discuss, write, and share the "how" of what they do.
Interested?