The Best Gift I Gave Myself in 2014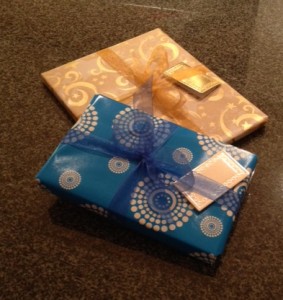 It wasn't clothes. It wasn't shoes. It wasn't a car.
It didn't increase my income. It didn't make me more efficient. It didn't help me "get more done."
Here are five things it did do:
1. It eliminated my mental looping. I'd get stuck on the same problem or scenario or emotion and cycle through it again and again, to the point where it'd keep me up all night.
2. It lowered my anxiety. I hadn't even realized how anxious I was all the time or the fact that taking even 15 seconds to let someone pass me on the sidewalk or get on public transportation ahead of me would make me feel like I was running behind.
3. It let me enjoy doing nothing. I couldn't even understand why anyone would want to do nothing – just sit in a chair or on a couch or the floor and do nothing productive. Now it's one of my favorite things.
4. It helped me recognize the constant cycle of busy-ness I'd gotten myself into, the constant need to do and accomplish. Exhausting. It gave me perspective and helped me be more decisive.
5. It helped me soften. I have a greater capacity for empathy, less desire to control everything, less interest in perfection, and a greater curiosity in what's messy and unknown.
It's my meditation practice. I read about an app that looked promising and immediately checked it out. I love the format and the approach and, after nearly two months, I'm as eager to use it today as I was nearly sixty days ago.
I thought about why and realized it's because –
* It helps me be more of me.
* It's constantly accessible.
* It's good for everyone I come in contact with.
* It's centering.
* It's free!
What's the best gift you gave yourself in 2014?