Stacking the Deck for Creative Problem Solving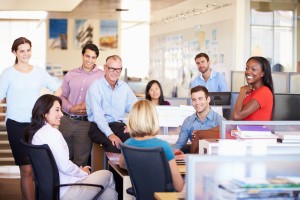 Peggy Fang Roe is a perennial problem solver. She just happens to do it for hotels. She's the Chief Sales and Marketing Officer in Marriott's Asia Pacific Division and, in this role, she's always on the lookout for innovative solutions. For example, she recently noticed a pain point: hotel conference spaces often go unused during the week. At the same time, she observed that hotel guests often wander their hotels in search of quiet spaces to work and hold meetings. Fang Roe's ability to make this connection laid the groundwork for the hotel chain's innovative partnership with LiquidSpace, an online platform that connects people to unused building spaces.
Fang Roe's ability to make creative connections is not unlike what educators do all the time. For example, middle school teachers experience a pain point when they lose a dedicated maker space for a much-needed classroom due to an enrollment increase. After observing that certain classrooms are empty at specific times during the school day, they coordinate a classroom "timeshare" with colleagues and establish pop-up maker spaces. Their ability to draw a connection between a pain point and an every day observation helps them find an innovative solution.
What if schools made it a priority to make our pain points public on a regular basis, so that we could tap into educators' collective wisdom to solve them? What if we could structure our problem solving in such a way that there was something in it for everyone? And what if it were as simple and fun as building and playing with a deck of cards?
Reading about Fang Roe recently reminded me of an activity I'd designed in working with teachers and school leaders. The goal was to work together on solutions to everyday pain points. If you'd like to learn more about this activity, take a look here.