So Much Depends on a Teacher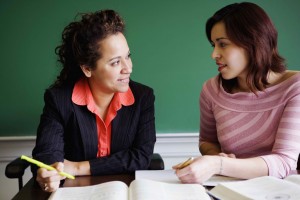 Sammy's a first-year teacher. He's in the final month of teaching 10th– and 11th-grade history at a public school in California.
He teaches classes of over 30 students, and he loves it.
I was curious to know what attracted him to teaching. He said it was a college history teacher. He added,
I was a lousy student. Had a GPA of 1.8. I mean I was a terrible student. Almost didn't go to college. Nearly didn't earn a degree. Then I had a history professor who got me hooked on the subject. I mean, my grades for every history class I took were 4.0. It's what made me want to teach history. In fact, I'm working on my master's degree now, too, because of him.
I said, "Sammy, I don't believe you were a lousy student. How could you be? You earned As in all your history classes. I just think you hadn't connected with any of your teachers up to that point. You hadn't found what you loved."
I added, "Your students are lucky to have you as their teacher. You love what you're doing, and you have a lot of empathy"
Sammy said, "I'm lucky to teach my students. I learn from them all the time."
Who's the teacher who made a difference for you? Why?