Simple Feedback Tools for Learning (and a Tasty Burger)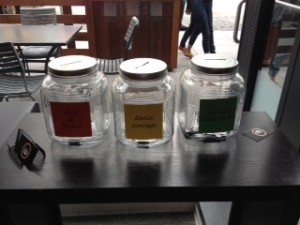 When she came back to the table with our check, the server said, "Use this chip to give us feedback on your way out."
Chip? Feedback? Cool!
I took the round wooden chip stamped with the restaurant logo and placed it in one of three jars labeled, "We'll do better," "About Average," and "I've been Umamified."
Let's see . . . Data. Visualization. Fun.
It got me thinking about how data gathering tools as simple as these can provide us with feedback for learning.
Could the tool be designed to deliver more specific feedback? Sure. The managers could have directed feedback to a specific area, like food or service quality – they could have asked for more targeted feedback. This would have provided more actionable data.
The concept, though, can inform teacher practice.
For example, you could set up something similar around specific topics like today's
use of technology (not helpful for learning, helpful for learning, off the charts helpful for learning)
level of learning challenge (low, medium, high)
opportunities to direct own learning (low, medium, high)
Students could be responsible for designing the questions. As part of the design process, they'd learn how to
craft questions
visualize data
interpret findings
assess bias
consider privacy
determine next steps
There are lots of possibilities here for student feedback that can inform teacher practice. There are lots of possibilities to talk about many aspects of data, data gathering and analysis, data privacy, and, ultimately, research.
What do you think?