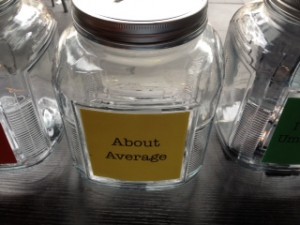 In my last blog post, I mentioned readings I've been doing in preparation for the start of my program.  One of the most riveting has been Fishman's The Wal-Mart Effect. It's been one of those page turners that I'm sad to have finished.  Never thought I'd say that about a book on Wal-Mart, but it's true.
A point Fishman makes again and again in the book, among many, is one I keep thinking about.  Wal-Mart has grown extremely rapidly in a short time.  Their growth has resulted in economic power that has rippled across the industry and around the world, impacting supply, demand, labor, the environment, and much more.  For Wal-Mart, these results translate into success in relation to their tag line of "Save Money.  Live Better."
Wal-Mart has made a promise to offer low prices every day, not just on sale days.  They've made good on that promise.  However, that promise has resulted in a stranglehold on the market – domestic job losses, impact on nearby businesses, environmental challenges, to name a few.
Where Wal-Mart has struggled in recent years is in stepping outside its internal measures of success – its own perception of success – in order to understand why an increasing number of watchdog groups and people within and outside of the U.S. have a different perception of Wal-Mart, namely, an unflattering one.  CEO Lee Scott in recent years has attempted to get to the heart of others' perceptions by doing something Wal-Mart's never done before – engaging in dialogue with those outside of Wal-Mart and attempting to listen to what they have to say.
What's the takeaway?  Well, for me, it's a reminder of how important it is to ask for feedback on a regular basis.  That may sound simple.  If so, it's a deceptive simplicity.
Let's face it.  We're not good at doing this.  We just aren't.  We don't really want to know what others think we're not doing well.  We don't really want to jar the perception we have of ourselves as leaders.  It's painful.  It's uncomfortable.  It's daunting.  It's depressing.  But . . . it's so important.
I'm going to liken  it to backwards design – Wiggins' and McTighe's approach to curricular design.  As a leader, you have to front-end your work with the goals of that work and the evidence that determines the accomplishment and/or progress you make with those goals.  The feedback tool you use has to be in direct alignment with those goals and that evidence.
What do I mean?  Well, as a leader you probably run meetings.  I will assume that you have goals for those meetings and that you design backwards with the meetings and the goals; in other words, you think about where you hope to be at the end of a fiscal or school year.  That you plan ahead with regard to what you want to accomplish with your meeting teams and how you want to accomplish it.  In fact, if you're really on top of it, you plan out three years and determine what the accomplishments will be year 1, year 2, year 3.
To get there, you have to lead effective meetings.  Part of how you'll determine if you've done that is by what is accomplished.  However, part of it will be all about how you facilitate.  You need to get feedback on both, and you need to do it early and often.  I would argue that you need to build feedback mechanisms into every meeting you run.  They don't have to be long or elaborate, but they need to be a regular part of how you do what you do.  They should be a part of everything you do.  Why?  Because without feedback – formal, informal, anonymous, in person, etc. – you're not moving beyond your own perception of your work.
You may think you're in tune and in touch with others' perceptions.  You may think you've done it all before and you know what success looks like, but I bet you'd still find something to learn.
Later this month, I'm going to work with someone at MIT Sloan to review with me 360 feedback from those I've worked with for more than one year.  All info was provided anonymously, and I've got 15-20 folks who will have given me feedback.  I've done this before.  It's powerful.  It's also painful, and it's also daunting.  Oh well.  It's also how you get better, how you set goals, and how you grow.
Regular feedback is even more important than 360.  It shows you care.  It also shows you plan ahead, you've got big-picture goals, and it shows you value others' feedback.
Most of all, it shows you realize you cannot and never will be able to perceive yourself in ways others can.  You need their feedback.
I'd love to hear about the ways you get feedback on your performance – from whom, how often, types of questions, etc.  I plan to write about this topic – feedback and perception – some more in the future, so your insights will be extremely helpful.