Mindsets: We Live How We See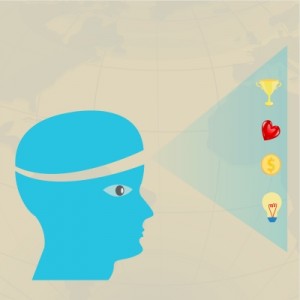 I was recently at an airport stopping and starting my way through a security line. My habit is to snatch my items as soon as they're through the scanner, so that I can keep the line moving for the people behind me.
Arms full and shoeless, I typically head to a strategically placed set of chairs or benches, so that I can tie my shoelaces, organize my stuff, and then head to the gate.
This time, after gathering up my belongings, I found myself heading to a set of chairs or benches that didn't exist. I did a double take. What did I miss? Where'd they go?
Turns out I didn't miss anything. They were nowhere to be found. Like a number of my security-line colleagues, I had to plop down on the floor to tie my shoes and get myself organized.
My travel companion was appalled. He couldn't believe the security folks' oversight. He questioned the competence of the people working the security line. He wanted to share his frustration with them, in order to improve the situation for customers. He wanted to effect change right now.
I had a different reaction. I couldn't imagine that the people working this security line were all that different from their colleagues working other lines across this airport or airports, in general.
I was more curious about the leaders who were managing this team. Did they model, support, and communicate the importance of responding and innovating on behalf of their customers? Was this type of behavior valued or was it discouraged? I didn't think about working to improve the situation right now. I was too caught up in whether the leadership/management situation was preventing the team from innovating.
Two travelers. Same situation. Two different reactions. Two different interpretations. Neither was better than the other.
It got me thinking about mindsets and how our mindsets influence how we experience every situation we encounter.
Mindsets. Mindfulness. Got me thinking about this blog post.