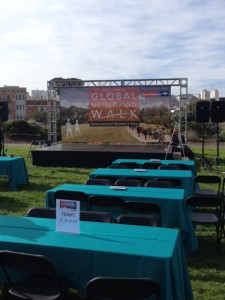 This year's International Women's Day took place on Saturday, March 8. Events were held around the world.
I chose to participate in Vital Voices' event in San Francisco and had the opportunity to serve as a mentor. They held simultaneous U.S. events in Seattle and DC.
One of the most inspiring speakers was Megan Smith of Google[x]. Trained as a mechanical engineer (B.S. and M.S. from MIT), she talked about the history of women in tech and engineering. She cracked wise about how WWII made it clear that, with men in the war, women were suddenly capable of tackling work for which they hadn't been considered.
Megan, along with a number of us, served as a mentor on Saturday. At the appointed time, we found our team members and headed out on a mentor walk. We made the trek from the green space above Fort Mason to the foot of the Golden Gate Bridge. Beautiful day! I'm sporting the sunburn to prove it.
The idea for mentor walks came from a woman who found that one of the best ways to get to know her mentees was to walk and talk. Wise woman. My mentees were an energizing group. Smart. Savvy. Committed to their work and ideals, they shared their goals, their passions, and the ways they have fun. I even picked up a tip on a singing instructor.
I highly recommend mentor walks (and meeting walks). It was a terrific way to get to know each other and to discuss strategies and tips. Give it a try with your mentees or folks you supervise!
As always, if you test it out, let me know how it goes.