Make This School Year Unforgettable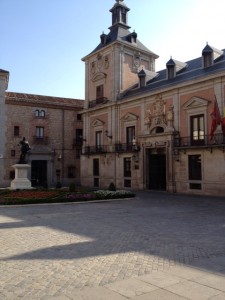 "Growth doesn't happen by accident. It's the result of intentional effort and consistent progress. You must define how you want to grow and then establish a plan to help you get there." Todd Henry, Die Empty
Yolanda's a tenth-grade World History teacher in Harlem. When she talks about her students, her school, and her principal, she swells with pride. She sounds like a starry-eyed first-year teacher.
Not even close. Yolanda's not only an experienced teacher, but she also just finished her tenth year in the classroom.
When I first met her in Madrid, Yolanda had already spent time in Barcelona studying the city's history, politics and art. Since arriving in Madrid, she'd been visiting sites associated with the country's Civil War. Today she was walking beside us on the Madrid city tour. Tomorrow, we'll be touring the Prado together.  In a few days, she'll be heading to Southern Spain to continue her immersion in Spanish culture and history.
What's driving her?
Yolanda set a goal for herself that Todd Henry of Die Empty calls a "stretch goal." She wants to make the coming school year a year unlike any other.
As part of her trip to Spain, she plans to create an interdisciplinary unit on Spanish history that will integrate concepts and skills from the art, literature, history, politics, and economics of the period leading up to and including the Spanish Civil War. "Civil War" will be a unifying theme across many of her units this coming year.
What steps is she taking to achieve her stretch goal?
Yolanda set what Henry calls a "sprint goal" for herself during the past school year. During that two-week period, she chipped away at daily "step goals" to complete her travel grant application. She said that completing this application was one of the hardest things she'd ever done; carving out time every day for two weeks made it possible. When she found out she'd been awarded the grant, she couldn't believe her good fortune.
Yolanda's traveled from her home in Brooklyn to Spain. She's spending one month here immersed in study and unit writing. She plans to make it a school year unlike any other for her and for her students. She plans to make it unforgettable.
How will you make this school year unforgettable? Well, Todd Henry, author of Die Empty suggests setting stretch goals in each of the four key areas of your life – work, mental, relational, and personal. To achieve each stretch goal, he suggests identifying the specific sprint (one to two week) and step goals (daily) you'll need to get you there. He refers to stretch goals as "waging a campaign."
What stretch goal(s) have you been working on this summer? How will you make it an unforgettable school year? What are the sprint and step goals you'll focus on to help you get there?