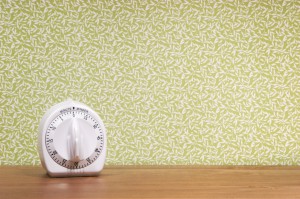 She was never happier than when she was surrounded by family and friends. Well, maybe when she was cooking or baking, but mainly if the cooking or baking was meant for friends and family.
She had her favorite recipes, although she loathed working from them. She preferred to work from memory and to cook by flavor and feel. Most of the time things worked out all right. Sometimes, they didn't. Because she could laugh at herself like no one could, she was perfectly comfortable sharing the story of adding salt instead of sugar to a cookie recipe, and she laughed harder than anyone else at the telling.
When you visited, she was happiest if you stayed a while, ate a full meal, finished the last piece of dessert, and drank your coffee slowly. She loved the company.
She liked it even better if you played cards. Card playing was one of her favorite hobbies. In fact, now that I'm thinking about it, the only time I remember her serious was when she was playing cards. She didn't like to lose.
Short. Very plump. I rarely saw her angry. She loved life too much. She loved people even more.
A 4th grade education. An incredible seamstress. Worked in factories. Rolled cigars. Married at 18. Ran a pizza store with her husband. Raised two daughters and held it all together while pregnant with her second child and waited for her husband to travel to Italy and then back into the U.S., in order to start the process of becoming a citizen (he'd originally entered the U.S. illegally as a stowaway many years before that).
Business woman. For a time a single mom. Talented designer. Risk taker. Incredible people person – amazing interpersonal skills. Unbelievably generous. One of the best huggers you'd ever find. Talked about education like it was the holy grail and made sure we understood its value. Found a way, with her husband, for her two daughters to earn college degrees in an era and a place where women didn't set foot on college campuses.
Philomena. Better known as Fanny. My grandmother. Thinking of you tonight and feeling grateful for all you taught me and for all the ways you supported the choices I made, choices that were so different from yours and from what was available to you.
While my education has given me options, I know that your lack of education never stopped you from living life to the fullest, contributing to the lives of others, and maximizing every opportunity you had.