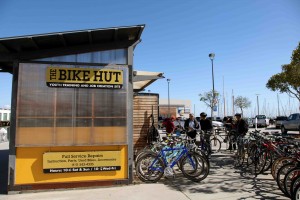 What happens when you just say yes?
I have no idea.  That's the fun part.  Try it and see.
I'd like to rent bikes and ride from our place to the Pacific Ocean.

Okay. Let's do it.
Four hours later, we'd researched a nearby bike rental shop, rented two bikes, ridden them from the East to the West side of San Francisco, stopped at the De Young Museum for food on the way back, and make it back to the bike rental shop before it closed.
Offer accepted. Fun had. Risk was low.
Want to move to SF, leave your old life behind, and start a business?

Whoa!  Uh . . . sure . . . well . . . uh . . . I'm terrified.
One year later, we found an apartment in downtown SF, gained enough traction to open a company office, built an incredible company team, and gained amazing partners in the education space.
Offer accepted. Risk muscle growing. Risk high.
Lots of offers that sit between the two poles of low and high risk . . . working hard to keep accepting 'em.