Interviews with Inspiring Innovators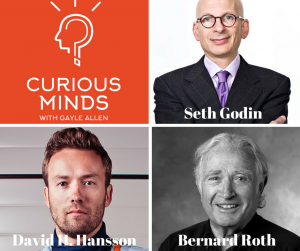 I'm pleased to announce the launch of my new podcast Curious Minds! It's a passion project I've been working on for several months, and now it's here. I'm excited to share it with you.
Each week you'll hear from inspiring innovators who are rethinking life and work. You'll learn how these entrepreneurs, scientists, and inventors achieved their most surprising breakthroughs and find out how you can do the same.
The first three episodes feature global inspirer Seth Godin, Basecamp Founder and CTO David Heinemeier Hansson, and Stanford d.school Co-founder and Professor Bernie Roth. You can learn more about these three innovators — and future guests — right here.
If it's your first time subscribing to a podcast on iTunes, I've put together some resources to guide you through it.
Here is a 49 sec YouTube video to walk you through the steps:
Or if you'd prefer, I've provided a step-by-step guide with screenshots.
To get started, click here to go to Curious Minds on iTunes. If it doesn't automatically open the iTunes apps on your computer, you'll want to click on the "View in iTunes" link (see arrow below).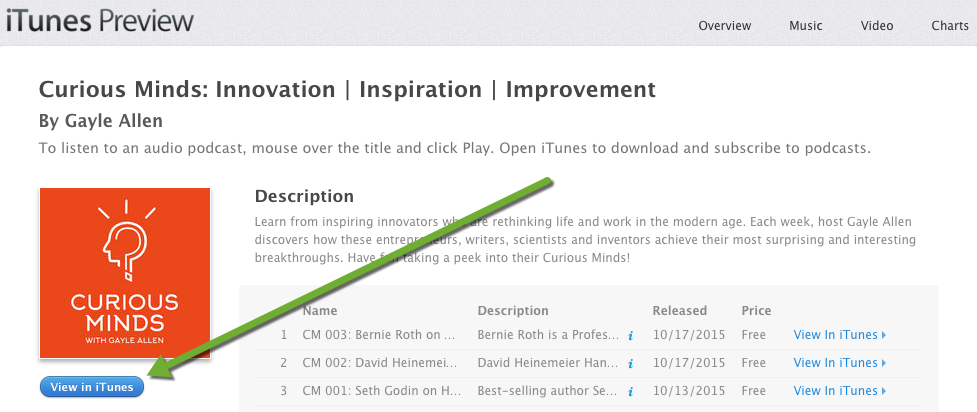 Step 1: Download the episodes.  
There are three episodes on iTunes. Click on each of the three links for "get" (see arrows below).

Step 2: Subscribe to the podcast.
Click on the subscribe link (see arrow below).

Step 3: Rate/Review the podcast.
Click on the Ratings and Reviews tab (see arrow below). If you like the podcast, click the number of stars. If you'd like, add a short review – can be as simple as "love this podcast!"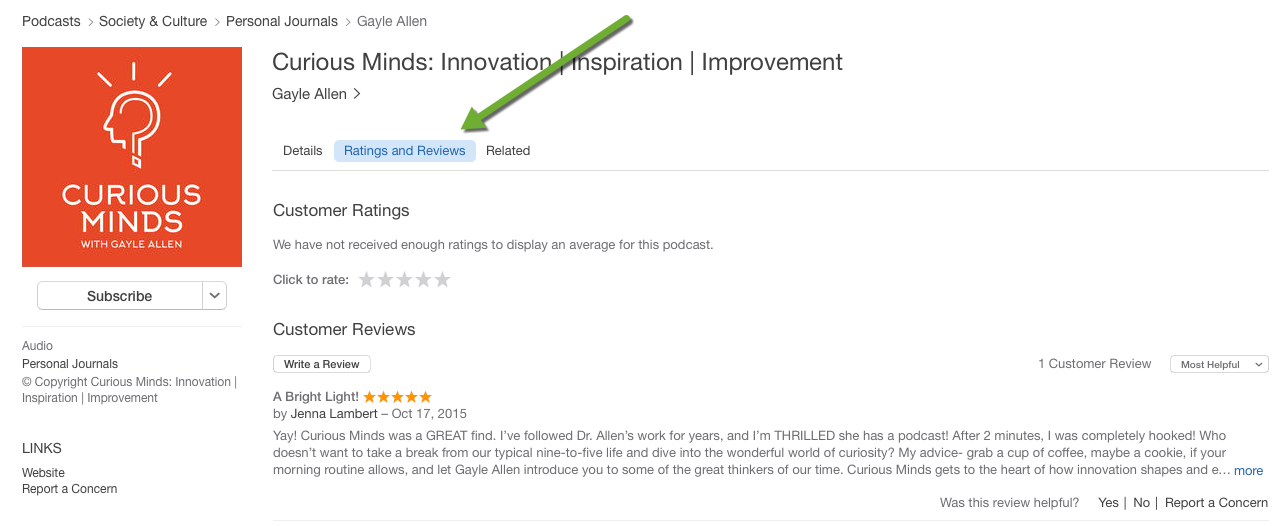 Step 4: Tell the world!
I'll be tweeting about the podcast and specific episodes this week.
Subscribe to the podcast and let me know what you learn!