Intersections That Inspire Innovation
Amy Whitaker refers to herself as a human Venn diagram. She's passionate about art and commerce and how the two intersect in ways that benefit the other. And she's written about these ideas in a gem of a book, Art Thinking: How to Carve Out Creative Space in a World of Schedules, Budgets, and Bosses. Amy's also a writer, researcher, and teacher, and she's currently a professor at NYU.
Amy recently connected me to some terrific people at California College of the Arts (CCA), a terrific Venn diagram of a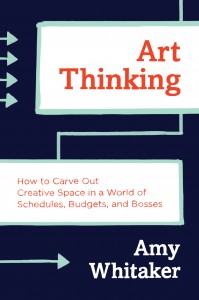 learning space right in my own backyard. About eight years ago, CCA started a two-year MBA graduate program in Design Strategy. Design, business, and innovation skills are embedded in every aspect of the program.
Tim Smith, who's been involved in the program since its inception, was kind enough to host me recently for a visit. That afternoon, I had the chance to sit in on Raffi Minasian's course, Innovation Studio. Raffi was masterful in creating an energizing and mindful space for this diverse group of first-year students. I'll have an opportunity to work with his class in October and am looking forward to seeing how they're doing seven weeks in.
Like Amy and like the folks at CCA, I value the learning that takes place at the intersection of two or more fields. Ideas and practices gain texture. Certain concepts and skills are amplified. There's a friction that comes into play and, when it sparks, innovation takes off.