Incredibly Lean. Unbelievably Talented.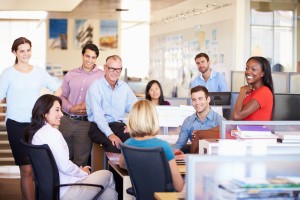 I'm talking about staffing.
As you make the shift from early startup to stable company, what's your staffing model? Are you thinking strategically about on-site and off-site resources?
As you grow, think about which employees must work on site and why. Then think about which employees may not have to be either.
With all employees, we seek the best talent we can find and we tap into our networks whenever possible. At the same time, we've also tapped into the skills of incredible off-site professionals for part-time and/or short-term contract work.
As you build out company staffing, don't overlook the untapped potential of the following groups:
Current graduate students eager to gain real-world experience and to apply their research skills to part-time project work
Talented and experienced stay-at-home or part-time working moms hungry to apply their incredible suite of skills to remote, part-time work
oDesk and equivalent contractors available any time, anywhere
What advice do you have for startups when it comes to staffing your organization incredibly lean and unbelievably talented?