How Rethinking Time Helped Me Be More Creative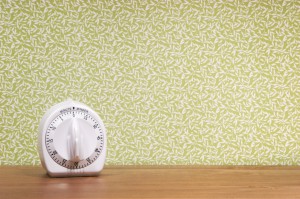 There's a terrific scene between Gandalf and Frodo in The Fellowship of the Ring, the first film of the Tolkien trilogy. Frodo's feeling the weight of his quest – to destroy a ring, in order to save the world – and he's wishing circumstances could be different. Wisely, Gandalf responds, "So do I, and so do all who live to see such times. But that is not for them to decide. All we have to decide is what to do with the time that is given to us."
Watching this scene recently got me thinking about time. Crazy to write, but it got me thinking about social research terms we used a lot in graduate school, terms like problematize and reify and demythologize. All the terms we used to question or critique commonly held assumptions.
When I first moved to Silicon Valley, I had a hard time letting go of my rigid thoughts about time. Up to that point, I'd spent nearly two decades in schools where seat time and contact time were everything. Looking back, I can see how time got concretized down to the period, the credit hour, or the next bell. I remember colleagues sizing each other up by who arrived first and who stayed the latest (in the suburbs, cars in a parking lot said it all).
Then three years ago, I started working with designers and developers. Many preferred later start times. Some were night owls. Some worked from home, be it San Francisco, Utah, or Ukraine. Fast-paced projects, a focus on concrete deliverables, and clearer interdependencies made time seem more fluid. Without a doubt, notions of seat time disappeared.
As that happened – as time became more fluid, less loaded, less concrete – it had an impact on other areas of my life. They, too, grew more expansive. Questions that begin with What if, or How could, or Why not, entered my vocabulary with greater frequency. Likewise, pursuing the answers – and seeing where they led – became less weighty. At the same time, it got easier to enter into the creative flow state Csikszentmihalyi describes.
That's why, when I recently read graphic designer, Maria Rapetskaya's article on how she redesigned her life – approached her life as a creative project – in order to rethink time, I was reminded, once again, of how our notions of time can constrain or free us. As she experiments with a less conventional schedule, she begins to see where her own biases emerge and where, without her constant vigilance, they may derail her.
It's when I took the time to problematize – to actively critique – how I thought about time that things got interesting. It's when I welcomed concepts like, agile, and strategic approaches, like scrum, into my life that my mindset was transformed. If, at the end of the day, "[a]ll we have to decide is what to do with the time that is given to us," then examining our biases about time – and taking actions to rethink them – seems like a worthwhile exercise.