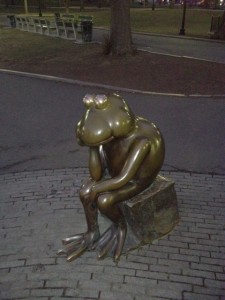 How do we get unstuck?  How do we shift from a teaching or leadership challenge that pushes our buttons and makes us point the finger at a student or a colleague and, instead, point the finger at ourselves?  How do we help ourselves to rethink what's happening and to reflect on it in ways that open up even a tiny space for curiosity?
I've been thinking a lot about that lately in relation to my own practice as a leader.  I'm working to slow down my reactions, my knee-jerk responses and frustrations.  I'm trying to go deeper with my questions, and to take more time to listen to what's being said and, more importantly, what's not being said.
When these moments occur, I'm working hard to find ways to take the places where I'm stuck and where others are stuck and to see if we can translate the "stuckness" into a question that helps us get at what's really bothering us (me), what's really going on.  Usually I find that I'm stuck because I don't know what to do or how to respond or how to take the conversation to another level.  That's getting me thinking a whole lot about professional learning communities and how I can tease out enough of a question or a desire to get curious from a challenging situation that will get us reading, discussing, and thinking about what's really going on.  That we're stuck.  What's causing us to feel stuck.
I'm feeling like a professional learning community can help take the problems, the challenges, and help me reframe.  If I can get there, especially in relation to those I'm questioning with, then the next step can be action research that gets us (me) from talking to doing.
Any advice?