Flash Mobs Make it Look Easy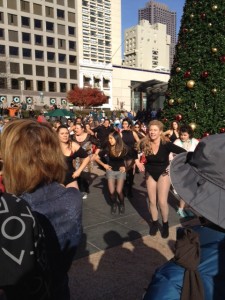 Six weeks ago a colleague and friend put herself in a discomfort zone. She signed up for hip hop lessons that would culminate in dancing in a flash mob in downtown San Francisco.
I was lucky enough to see her performance today. She was incredible! So were her colleagues.
You should have seen the faces of people in the crowd. They were beaming. So much laughter, support, and good cheer.
No one was getting paid. Nothing was purchased.
Instead, a dance instructor chose to volunteer his time to 30-40 students over the course of 6 weeks. These students, along with their instructor, chose to share what they'd learned today for free. They shared their hard work, their laughter, and their joy.
Through their passion and dedication, they made it look easy. Because of their hard work, we got to laugh and smile and connect.
Thanks for the inspiration!