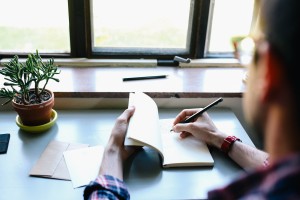 Former English teacher and department chair, Garrett Keizer, returns for a one-year teaching stint to the Vermont high school where he'd taught decades ago. A prolific and award-winning writer whose wife recently retired from her public school position as a speech pathologist, Keizer admits his return is driven primarily by their need for health care.
His perspective on the profession after decades away, coupled with his incredible writing skills made me want to share the following thoughtful musing on teachers and New England's standardized tests, the NECAP exams, with you from his latest book, Getting Schooled:
…the headquarters from which educational policies emanate are always a comfortable distance from the frontline troops. At a department meeting I watch as two of my colleagues have a heated disagreement over the creation of our own mandatory 'summative assessments' for year-end mastery of the English curriculum, not over the mandate itself but over the best way to implement it and interpret the data. This is not the sort of turf war that erupts between the teacher who wants to do things in a new way and the teacher who doesn't want to do anything at all. These are two accomplished and highly dedicated practitioners, neither of whom appears to have a cynical or lazy bone in his or her body. They also happen to be young parents. Often I see them working late into the day as their children, dropped off by the bus, sit dangling their feet in the big kids' desks while munching on carrot sticks and crackers and wondering aloud when it will be time to go home. . . . And it's impossible for me to witness their dispute this afternoon without wondering which of the tipsy potentates reconvening at the Red Lobster after a day of designing NECAP exams or writing 'new state standards' or conducting a workshop for school administrators has ever in his or her life or wildest dreams worked as hard as either of my colleagues or cared half as much as they do about the well-being of their students. In short, it's impossible for me to stand among the frontline troops without dreaming of a mutiny. And wishing I'd been a better pirate.