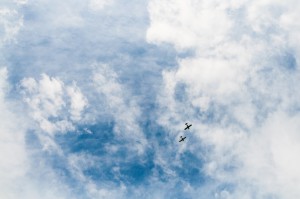 Viola Davis: "Dream big. Dream fierce." (SAG award ceremony, January 29, 2012)
I came into this year at MIT with lots of excitement and lots of fear.
I was excited to learn things I'd been curious about – the mindsets of business leaders, the underpinnings of corporations, the skills of marketing and finance, to name a few – and to see how integrating these different ways of thinking into my current mindset might help me approach my life and work with different insights.
I was also afraid that I was making a bad decision.  What would I do when I left the program?  Would the program help me pinpoint what I wanted to do next?  Will I end up unemployed and unemployable?
Guess what?  I'm still excited and, at times, I'm still afraid.  I know why people stay where they are and keep doing what they're doing, even if their heart tells them they're unhappy, want something bigger, and/or want to break out of the same-0ld.  Simple answer.  It's hard to change, and it's scary when you don't know exactly what you'll do next.
But here's what I'm learning . . .
it's worth it
you'll experience lots of self-doubt, especially when you talk to friends and colleagues from previous jobs who are still "in it," while you've had the luxury of being "out of it," with time to reflect and learn new things
you've got to get comfortable feeling uncomfortable and unsure; consider it a new way of being; otherwise you'll lose courage and go back to what was; that'd be disappointing
let go – of who you've been, how you've thought, how you've lived, where you've lived, and all the judgments that get attached to those things; shed your "skin"
be kind – to yourself and to others – there is a wonderful space for reflection and bigger perspective taking in kindness
get to love emotional roller coasters – the highs and the lows are part of the process
keep focusing on what makes you come alive – what softens and excites and energizes and heartens and feeds you; be willing to consider everything – block out the voices of judgment and reproach
have goals but realize the process of change isn't linear
take risks – emotional, intellectual, psychological, physical, etc. – whenever you can
share your feelings with good friends and loved ones – you're not alone even when you think you are; others can help and others have been there
I love teaching.  I love learning.  I love writing.  I love designing learning experiences.  I love to travel.  I love connecting people to ideas, to other people with whom I think they'll click, and to resources.  I love big ideas.  I love bringing people together to learn and to share perspectives.  I love working on behalf of a mission I believe in.  I love strategy and goal setting.  I love feedback.  I love good food and good friends.  I love new challenges.  I love asking questions.  I love listening to the answers.  I love seeing how little I can say and ask in relation to how much I can learn.  I love cities.
What do you love? What do you really want to do and be? What's stopping you? Are the obstacles real or imagined or just too hard to face right now?  Who can you connect with to support you?