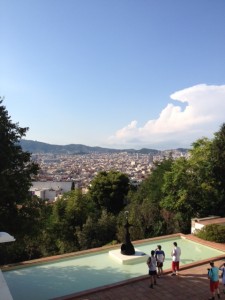 Jonathan Fields recently interviewed Debbie Millman for his podcast, The Good Life Project. During the interview, Millman, a respected designer, talks about the impact revered designer, Milton Glaser (of I Love New York fame), has had on her life and her work.
When she talked about Glaser's teaching style, I got curious. I admit I didn't know much about him. My first thought was, I'd love to take a class with him! Where's he teaching?
After doing some research, I found out that he's 85, continues to work in design, but no longer teaches. My (our) loss! He sounds like an incredible teacher. Here is a link to his site and his work.
Here's a recent interview with Glaser.
Here's a story Glaser tells about an incredible teacher in his life:
When I was in junior high school, I had the opportunity to take the entrance examination to either Bronx Science, which is a great New York school, or the High School of Music and Art, another great school. … And I had a science teacher who was very encouraging for me to enter into science — I was very good at science — and he wanted me to go to Bronx Science. And I was evasive about that, because I didn't want to tell him that it ain't gonna happen.

But the day of the entrance exam — they occurred on the same day — I took the entrance examination to the High School of Music and Art. And the next day I came into school, he was in the hallway as I was walking down, and he said, "I want to talk to you." I said, "Uh-oh — the jig is up, he's going to find out I took the 'wrong' exam." He said, "Come to my office… Sit down." And, as I was sitting there, he said, "I hear you took the exam for Music and Art." And I said, "Um, yes." And then he reached over, and he reached into his desk, and he pulled out a box of French Conté crayons — a fancy, expensive box — and he gave it to me, and he said, "Do good work."

I can't tell that story without crying, because it was such a profound example of somebody — an adult, authority figure, sophisticated man — who was willing to put aside his own desire for something, his own direction for my life, and recognize me as a person who had made a decision. And he was, instead of simply acknowledging it, encouraging it with this incredibly gracious and generous gift. … The thing about it that always astonishes you is that moment — it couldn't have taken more than two minutes — was totally transformative about my view of life, my view of others, my view of education, my view of acknowledging the other.
And here are Glaser's thoughts on education:
What you teach is what you are. You don't teach by telling people things.

[…]

I believe that you convey your ideas by the authenticity of your being. Not by glibly telling someone what to do or how to do it. I believe that this is why so much teaching is ineffective. … Good teaching is merely having an encounter with someone who has an idea of what life is that you admire and want to emulate.
I'd still love to take a class with him . . .