CM 074: Lisa Kay Solomon On Designing Strategic Conversations
Podcast: Play in new window | Download | Embed
Subscribe: Apple Podcasts | Android | RSS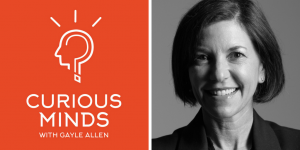 Leaders face an onslaught of new challenges that demand increasingly innovative solutions.
Yet their approaches to finding them often get stuck in either blue-sky brainstorming or bottom-line decision making. Instead, leaders need a path that blends these two approaches — a middle road that engages not only the minds of their teams, but also their hearts.
To address these challenges, Lisa Kay Solomon co-authored the book, Moments of Impact: How to Design Strategic Conversations that Accelerate Change. Lisa is an innovation, leadership, and design expert and Principal Faculty and Managing Director of Transformational Practices at Singularity University. Her writing has been featured in BusinessWeek, the Wall Street Journal, and Forbes.
In this interview, we talk about:
Why we need to bring the human side — our hearts and minds — to strategic conversations

How designing strategic conversations is an important leadership skill

How strategic conversations differ from brainstorming and decision making

Why strategic conversations are about more than getting the right answer

Why these kinds of conversations are about the future of our organizations, of challenging the status quo, and of multiple perspectives, whether that involves new products and services, entry into new geographic regions, new business models, or new ways of staffing

How strategic conversations can help us build understanding and help us see what success looks like

The power of staying in the exploration space, staying expansive in our thinking

Why these conversations are about mindsets, emotions, new ways of thinking, and new possibilities versus logic, right over wrong, or defending particular points of view

Why strategic conversations require leaders to develop greater self-awareness and an understanding of their biases

Why strategy is emotional

How our education and schooling tees us up to think of strategic planning as all about the correct, numeric answer

The important role design thinking, empathy, and supposed soft skills play in strategic conversations

Why designing strategic conversations is a craft, not a crapshoot

The importance of engaging multiple perspectives rather than just identifying participants — paying attention to diverse ages, people outside the organization, visualizations, etc

Why we should prepare participants before bringing them together, so that we set them up for success

How background readings, information on who else will be in the room, meeting goals, etc, can help participants do their best work

Why we want to design backwards when bringing people together for strategic conversations

The importance of asking what participants will be thinking or saying to friends before, during, and after strategic planning meetings

Why framing the issue of the strategic conversation is so important and so challenging

How framing the issue is like providing the picture on the puzzle box because it is about setting the parameters

How we can reframe discussions of market competitors by asking who is delivering value in new ways to our customers

Why a school considering adding a high school asked should we do it versus can we do it

Why leaders need to get comfortable bringing emotion into the room

How setting the agenda is about making it an experience, getting people invested, and engaging emotionally, rather than just about getting things done

Why we should value discussing our fears, what we care about, and what makes us nervous about the issues we are discussing

Addressing the yeah but of long-term vs short-term thinking and planning

Being able to speak to the reality of organizational politics and turf wars

Having empathy for knowing how to engage with one another in these ways — with visualizations, storytelling, conversations, and new ways of thinking

Recognizing that strategic thinking can be learned and that it is a set of skills we are not taught and that probably did not get us to where we are in leadership

The value of helping employees understand the purpose and intention of the organization

The fact that every day is an opportunity to ask ourselves what we can learn, how we can stretch, and what is possible
Links to Topics Mentioned in this Podcast
Simply Brilliant by William C. Taylor
California College of the Arts and its MBA in Design Strategy
Design a Better Business by Lisa Kay Solomon
If you enjoy the podcast, please rate and review it on iTunes – your ratings make all the difference. For automatic delivery of new episodes, be sure to subscribe. As always, thanks for listening!
Thank you to Emmy-award-winning Creative Director Vanida Vae for designing the Curious Minds logo, and thank you to Rob Mancabelli for all of his production expertise!