CM 070: Francesca Gino on the Benefits of Nonconformity at Work
Podcast: Play in new window | Download | Embed
Subscribe: Apple Podcasts | Android | RSS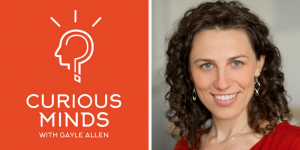 Employee engagement is at an all-time low, but why? Francesca Gino, an expert on employee engagement and productivity, advises that if we do only one thing to fix it, we should encourage our employees to stop conforming and be themselves. When she and members of her research team introduced small interventions that encouraged people to be more authentic, the results were dramatic.
Francesca is a Professor at Harvard Business School and author of the recent Harvard Business Review article, Fostering Rebel Talent at Work. She has won numerous awards for her work in psychology and management, and her research has been featured in publications like The Economist, The New York Times, and Scientific American. She is also author of the book, Sidetracked.
Highlights from our conversation include:
Why being ourselves at work increases engagement, creativity, and productivity

How authenticity at work increases employee engagement and retention

How opportunities to reflect on our strengths and unique qualities as early as onboarding increase our engagement and desire to stay on

Why engagement goes up when we ask employees to share strengths during onboarding

Concrete ways to encourage new employees to add to organizational culture

How reflecting on who we are increases happiness and engagement

Simple ways we can be authentic at work without waiting for permission

The importance of asking why we do things this way

How an award-winning chef helps his employees be authentic at work

How it takes courage to be authentic and why it breeds success

How leaders can model non-conformity for their employees

What leaders can say to encourage employees to voice dissent

How leaders can make clear when conformity is the rule

The one quality a high-powered search firm seeks in candidates above all others

How curious people can be better decision makers and creatives

Why asking people to read a variety of books may hold the key to fostering creativity

How her own experience coming to the U.S. from Italy led her to the research she does

That rebel talent is something we can learn to embrace and cultivate

How leaders can start small to help their employees be themselves at work
Links to Topics Mentioned in this Podcast
The Conversational Firm by Catherine Turco
Massimo Bottura and Osteria Francescana
Mellody Hobson and Ariel Investment
If you enjoy the podcast, please rate and review it on iTunes – your ratings make all the difference. For automatic delivery of new episodes, be sure to subscribe. As always, thanks for listening!
Thank you to Emmy-award-winning Creative Director Vanida Vae for designing the Curious Minds logo, and thank you to Rob Mancabelli for all of his production expertise!