CM 062: John Maeda on Great Design
Podcast: Play in new window | Download | Embed
Subscribe: Apple Podcasts | Android | RSS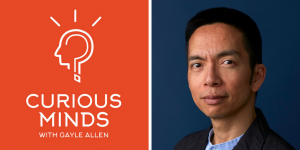 Everyone benefits from understanding great design. Whether you make products, program apps, or provide services, design plays a critical role in how effectively you accomplish your goals. And if you work in the field of design, there has never been a better time to showcase your skills.
In this thought-provoking interview, John Maeda talks about all of this and more. An award-winning designer who was described as a bellwether for the design industry by Wired Magazine, John sits at the crossroads of business, design, and technology.. His TED talks have been viewed by millions, and his books have been translated into dozens of languages.
John began his career Professor and Head of Research at The Media Lab at MIT. He then served as President of the Rhode Island School of Design (RISD), authored a number of books, and then left academia to work as Design Partner for venture capital firm Kleiner Perkins. He now works as Global Head of Computational Design and Inclusion at open-source tech firm, Automattic.
John shares what he has learned along the way. Insights from our interview include:
How the arduous practice of engineering informs his perspective on design

How he was raised not to know what he could not be

How curiosity is about having an openness to now knowing

How much of what he saw in Silicon Valley was reminiscent of MIT

How resilience can increase with curiosity

How each challenge he has chosen stretches him

How creatives often lack confidence – a normal occurrence for them

How a brilliant professor taught him to say I do not know

The three kinds of design that exist right now

How digital design is constantly changing, immature

How design thinking is a powerful strategy for understanding users

How schools can benefit from real-world practice

Why stepping out of academia was important for his understanding of the world

Why the addictive aspect of tech is not a problem for him

How he is always looking for new people to learn from

Why he wishes we were talking less about beauty in design and more about effectiveness

How he wishes design were more about who we can serve rather than trends

How he is asking how design can be more inclusive

How we can get caught up in making things in our own image through design

The fact that design tends to come to the foreground only once the tech matures

The challenges of leading and working with people in design

How he is learning to work in a 100 percent remote tech company
Selected Links to Topics Mentioned
Walker and Company, Bevel Brand
If you enjoy the podcast, please rate and review it on iTunes. For automatic delivery of new episodes, be sure to subscribe. As always, thanks for listening!
Thank you to Emmy-award-winning Creative Director Vanida Vae for designing the Curious Minds logo, and thank you to Rob Mancabelli for all of his production expertise!