CM 037: Steve Case on the Next Wave of Internet Innovation
Podcast: Play in new window | Download | Embed
Subscribe: Apple Podcasts | Android | RSS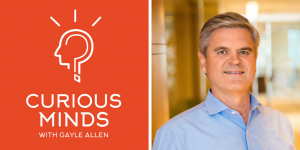 Steve Case, co-founder of America Online, believes that Internet companies have grown in three successive waves. Tech entrepreneurs spent the first wave getting us on the Internet. They spent the second wave connecting us to the apps and platforms they built on top of it. Now, in the third wave, innovative partnerships and policies will help entrepreneurs rethink large parts of our daily life, such as healthcare, food, and education.
That is the argument Steve makes in his award-winning and bestselling book, The Third Wave: An Entrepreneurs Vision of the Future. Steve was the co-founder of America Online, the first Internet company to IPO, and Chair, Founder, and CEO of Revolution, a DC-based investment firm.
In this interview he talks about the challenges early tech entrepreneurs like him faced, and he paints a picture of the challenges and opportunities to come. He also talks about the power of entrepreneurship to support ongoing innovation in the kinds of sectors that impact the lives of millions of people around the world.
In this conversation, we also talk about:
How Steve got his start as a tech entrepreneur

Key differences between entrepreneurship today versus decades ago

The story behind AOL

Lessons learned from the TimeWarner acquisition

Why entrepreneurs need vision and thoughtful execution to succeed

Key factors and skills that will set Third Wave entrepreneurs apart

Possibilities for healthcare, education, and food industry disruption

The important role government will play in the Third Wave

What Steve means by the Rise of the Rest for Third Wave entrepreneurship

Why Steve gets so excited about food entrepreneurship

The power of impact investing for companies, employees, and investors

Why he chose to write a book about the future instead of the past
Steve plans to spend the next 10-15 years of his life making the ideas of the Third Wave a reality. He believes his book offers a framework and that it is up to leaders like him to support the kinds of diverse people and companies who will put that framework into action.
Selected Links to Topics Mentioned
The Third Wave: An Entrepreneurs Vision of the Future by Steve Case
The Third Wave: The Classic Study of Tomorrow by Alvin Toffler
The Creators Code by Amy Wilkinson
Total addressable market (TAM)
If you enjoy the podcast, please rate and review it on iTunes. For automatic delivery of new episodes, be sure to subscribe. As always, thanks for listening!
Thank you to Emmy-award-winning Creative Director Vanida Vae for designing the Curious Minds logo!