CM 015: Warren Berger on Questions that Prompt Innovation
Podcast: Play in new window | Download | Embed
Subscribe: Apple Podcasts | Android | RSS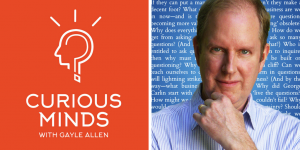 What if the secret to successful innovation lies in asking ambitious questions, the kinds most of us rarely ask? That is exactly what Warren Berger learned in speaking with some of the most recognized, global leaders in innovation. He discovered that they not only ask different kinds of questions, but they apply those questions to problems unsolved and unseen. Along the way, they change the world.
He shares these insights, and more, in his bestselling book, A More Beautiful Question: The Power of Inquiry to Spark Breakthrough Ideas. Most importantly, he helps us learn how we, too, can ask these kinds of questions and get started on our own innovative paths.
In this episode you will learn:
why curiosity is a killer app for success in work, life, and leadership

the difference between ordinary and game changing questions

the power of problem finding

tips for helping us question our assumptions

a framework to support innovative inquiry

the connection between making, design thinking and powerful inquiry

how important it is to create a culture of questioning
Warren will share insights from his work with leaders in all kinds of organizations, including schools, and he will talk about his goals for future projects.
Links to Topics Mentioned in this Podcast
Why Curious People are Destined for the C-Suite 
If you enjoyed the podcast, please rate and review it on iTunes. For automatic delivery of new episodes, be sure to subscribe. Thanks for listening!
Thank you to Emmy-award-winning Creative Director Vanida Vae for designing the Curious Minds logo!