CM 012: Thiel Fellow Madison Maxey on Making and Design
Podcast: Play in new window | Download | Embed
Subscribe: Apple Podcasts | Android | RSS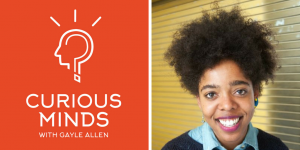 At 16, Madison Maxey was the youngest to intern at Tommy Hilfiger. Shortly after that, she founded her company, The Crated, a product innovation studio focused on second-generation wearable technology. Then, she went to college, like she was supposed to do.
But for Maddy, there was a disconnect between the feelings that she received from her work and sitting in college classes.So after one semester of college, she dropped out to accept a Thiel Fellowship. Since then her work has been featured in Wired, Fast Company, and New York Magazine, and she has provided wearable tech insights to the likes of the White House and Google. She has been named a founder to watch by Women 2.0 and is an Entrepreneur in Residence at General Assembly and an Artist in Residence at Autodesk.
This week, in a special edition of Curious Minds, I share interviews with four young people, ages 18-22, each of whom decided either to drop out or never attend college, in order to pursue work that mattered to them. Each is either a current or past recipient of a Thiel Fellowship, a program founded in 2011 by Peter Thiel to encourage young people to sidestep college and a traditional life path, in order to chart their own course as entrepreneurs.
In this episode you will hear Madison talk about:
innovations in wearable technology

what motivated her to learn programming

why she dropped out of college after one semester

her eagerness to be a Thiel Fellow

her passion for costume design and design optimization

what her parents thought about her decision to drop out of college

her policy of You Do You

the importance of finding your tribe

how communication skills inform her work

her work in relation to the Maker Movement

how uncertainty is a natural part of innovation

why young people should be working on projects right now

how she had to learn the skills of time management

her curiosity about teamwork, collaboration, and community in relation to a goal
Links to Topics Mentioned in this Podcast
If you enjoyed the podcast, please rate and review it on iTunes. For automatic delivery of new episodes, be sure to subscribe. Thanks for listening!
Thank you to Emmy-award-winning Creative Director Vanida Vae for creating the Curious Minds logo!