CM 006: Mick Ebeling on How to Achieve the Impossible
Podcast: Play in new window | Download | Embed
Subscribe: Apple Podcasts | Android | RSS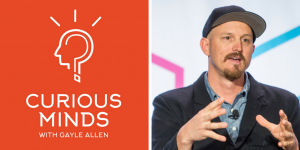 Mick Ebeling is the Founder of Not Impossible Labs, an online crowdsourcing platform that dramatically improves the lives of millions by creating low-cost, open-source, and do-it-yourself devices. For example, through a combination of marking and hacking, Not Impossible Labs developed 150-dollar devices that helped people with ALS communicate with loved ones for the first time in years, as well as prosthetic limbs for Sudanese children for as low as 50 dollars.
The philosophy of Not Impossible Labs is to help one to help many, that is, to create a life-changing solution for one person, and then think about how to scale it. He describes these innovations in the bestselling book Not Impossible: The Art and Joy of Doing What Could Not Be Done.
Mick was deemed one of the Top 50 Most Creative People in 2014 by Advertising Age. He was also the recipient of the 2014 Muhammad Ali Humanitarian of the Year Award. In this interview, he shares the circumstances that launched Not Impossible Labs and that led to his book. He talks about the people whose problems he committed to solve and the hacking, making and do-it-yourself approaches he and his fellow innovators used to do just that.
In this episode, you will learn:
how to commit first to achieve the impossible

how a 150-dollar EyeWriter helped a renowned artist with ALS draw again

how 3D printers revolutionized life for Sudanese youth

the importance of making and hacking for solving real-world problems

how to empower young people to embrace a Not Impossible mindset

how seeking solutions helps us make creative connections
Mick also shares several of the new projects his organization has underway, and he talks about ways Not Impossible Labs is bridging the gap between makers and problem solvers.
If you enjoyed the podcast, please rate and review it on iTunes. For automatic delivery of new episodes, be sure to subscribe. Thanks for listening!
Links to Topics Discussed
Time Magazine Top 25 Inventions
Thank you to Clark Nowlin for his sound engineering and to  Emmy-award-winning Creative Director Vanida Vae for creating the Curious Minds logo!