CM 003: Bernie Roth on How to Design a Life
Podcast: Play in new window | Download | Embed
Subscribe: Apple Podcasts | Android | RSS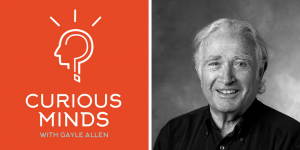 Bernie Roth is a Professor of Engineering and the Academic Director and Co-founder of the Hasso Plattner Institute of Design (the d.school) at Stanford University. A leader of international workshops on creativity and design thinking, Bernie is the author of the book, The Achievement Habit: Stop Wishing, Start Doing, and Take Command of Your Life.
Bernie talks about what it means to apply design principles to create a life well lived. His focus is on personal transformation and empowerment.
Things you will learn in this episode include:
the importance of how we see the world

the danger of having a reason for doing something

how a bias toward action can overcome fear

the answer to what is holding us back from learning, changing, and growing

how methods for reframing and asking good questions can help us figure out the actual problems we are trying to solve

ways to get unstuck

how the language we use can empower or disempower us

how teams and collaboration help us relate differently to one another and our work

the shift of design thinking from object-centered to human-centered

the origins and focus of his popular Designer in Society course for the d.school

how much physical space influences our mindsets, our relationships, and the ways we work and collaborate
Bernie also talks about how his work has changed the way he teaches. He is always striving to find ways to empower his students.
As always, thanks for listening! If you enjoyed this episode, please share it using the social media buttons you see at the bottom of the post. Also, please leave a review of the Curious Minds podcast on iTunes. Ratings and reviews are extremely helpful and greatly appreciated! I read every one of them.
Please subscribe to the show on iTunes to get automatic updates. Thanks!
Books Mentioned
Improv Wisdom by Patricia Ryan Madson
Make Space by Scott Doorley and Scott Witthoft
Miscellaneous Mentioned
Designer in Society course
The Iceman Cometh by Eugene O'Neill
Thank you to Clark Nowlin for his sound engineering and to Emmy-award-winning Creative Director Vanida Vae for creating the Curious Minds logo