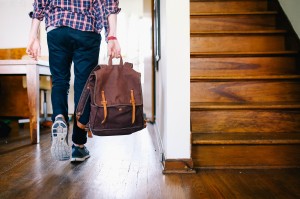 The Learning Year . . . that's what I'm thinking of calling it.
A new city.  A new "job" (I'll be an MIT Sloan Fellow this year; MBA as the goal).  A new commute (20 min. door to door by bike; plan to get faster as the year goes on and the weather gets colder).  A new perspective (lots to learn; lots I won't know).
I guess I could have taken up a new hobby.  Kept promising myself I'd learn to speak Spanish.  I'd get back to my yoga classes.  I'd study art history.  In the back of my mind, though, I knew I had something I needed to do first.  I needed to get an MBA.  I can't explain it.  I can't even tell you exactly what I'll do with it.
All I know is that I am eager to learn how to ask a new set of questions.  I feel like I keep asking the same ones.  Like I'm hitting the rewind button on my approaches and mindsets.
Mindsets . . . yep . . . can't stray far from my dissertation focus . . . Jack Mezirow and his theory of transformative learning.  One of my favorite things.  Super scary, but oh so fascinating.  Jar yourself enough to allow yourself to see the frameworks you're using and the limitations of them.
Doing this program is going to help me do that.  I am so going to be jarred – that's a given.  I'm also going to be jarred by the experiences of those around me – people from all over the world.
Doing all the pre-reading is already shaking me up – so many things I never knew about Wal-Mart, about the factors that influence how businesses are built, how they grow, and how they die.  Incredible.  Can't explain why I'm so wound up about these ideas right now, but I definitely am.
Woo-hoo I can't wait to get started!  When's the last time I said that or felt that way?  It's been a while.  Bring it on!
When's the last time you felt that way – really excited about something you were learning or about to learn?