Beyond the Workshop Model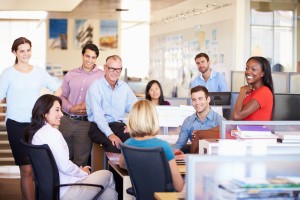 Learning Forward (www.learningforward.org) is the new name for the National Staff Development Council, a really wonderful organization for teacher leaders, school administrators, and anyone who wants to learn more about effective practices for adult learning in relation to schools and schooling.
I just opened a box of books I'd ordered from them and found a great bookmark inside.  The bookmark title is, "If not a workshop, then what?," and proceeds to list 30 alternatives for learning.  It's a terrific list.  Here goes:
Conduct action research projects
Analyze teaching cases
Be observed and receive feedback
Join a cadre of in-house trainers
Plan lessons with a teaching colleague
Consult an expert
Examine student data
Be coached by a peer or an expert
Lead a book study
Visit another school
Write assessments with a colleague
Participate in a videoconference or conference calls with experts
Do a classroom walk-through
Given presentations at conferences
Research on the Internet
Lead a schoolwide committee or project
Participate in lesson study
Coach a colleague
Be a mentor – be mentored
Map your curriculum
Join a professional network
Use a tuning protocol to examine student work
Maintain a professional portfolio
Write an article about your work
Observe other teachers teaching
Read journals, educational magazines, books
Participate in a critical friends group
Do a self-assessment
Shadow a student, a teacher or another professional in the field
Keep a reflective log or journal
I might add a few more: develop an online learning presence (blog, tweet, develop a shared wiki resource, etc.), form a learning community – start small – at your school where you talk about teaching and student learning, and find ways to connect your students (and you) to people from around the world.
What would you add to this list?