A Crystal Ball for Big Data (and Education)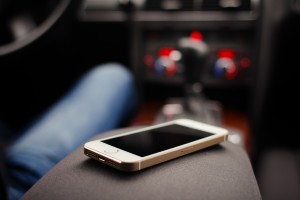 I had the chance to hear Erez Aiden speak the other night in San Francisco. He is the co-author of the book, Uncharted: Big Data as a Lens on Human Culture.
Aiden is one of those brilliant researchers who asks the types of questions that take full advantage of his doctorate in applied mathematics, along with his passion for the humanities.
His research led him to work with Google to develop a freely available analytic tool, the Google NGram Viewer. It's a terrific example of how mutual passions (a Google co-founder's passion for books and libraries coupled with two researchers' passion for history, linguistics and mathematics) can fuel the development of incredible tools.
If you have a moment, I encourage you to check out the viewer. Be careful. It's addictive.
My own curiosity led me to type in four words for comparative analysis, namely, student, teacher, learning, and technology. Check out the chart that resulted from this search. You can also see it here: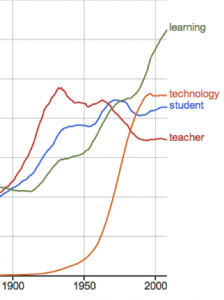 In the over 30 million books published from 1500-2008 that Google has scanned, take a look at the period from 1900 to the present. Notice how the word "learning" has been rising steadily since then. During this same time period, notice how the words, technology and students, have also been trending upward. In contrast, notice how instances of the word teacher have been decreasing.
Interesting.
This is big data in its crudest form. That means it is large scale and messy. Since it comes from many sources without any attempts to "clean" it (check for individual source gaps, repetitions, inaccuracies, etc.), it does require a level of healthy skepticism. However, the sheer number of data points lends credence to the overall trends.
What do you think?