6 Game Changers for Learning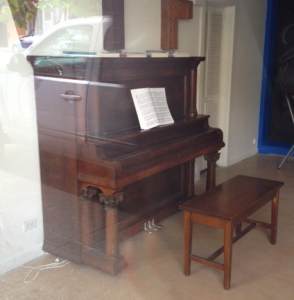 I noticed this piano in an office window the other day. It brought back lots of memories of practicing, playing and taking lessons that got me reflecting on the process of learning.
I reflected on how I thought about and experienced learning then and how I think about and experience learning now.
Some thoughts –
Relevance makes it "real." I wanted to make progress so that I could play the "real" songs – recognizable classical and contemporary pieces – so that I could feel like a "real" musician. Real should enter the picture sooner.
Learning is a process (think unconscious incompetence, conscious incompetence, conscious competence, and unconscious competence; we tend to quit at the point of conscious incompetence, often because we don't see this as a normal part of the learning process). I tended to view my inability to play songs perfectly as a deficit in me. I didn't realize this was part of the process. As a learner, it created a lot of anxiety for me and a lot of judgment about my abilities. When you normalize the process you have more self-compassion, which helps you fail faster and learn more quickly.
Frequent feedback speeds up progress. I had weekly lessons. The feedback was extremely helpful, but I'm sure if I had had more frequent feedback, I'd have made progress faster. It's incredible how technology has helped with this, especially in the music education space.
Social learning can be a game changer. I loved playing and practicing, but I was often alone. I'm a social person and realize I would have loved to connect with others while I learned to play. Again, technology is a welcome solution to that problem.
Reflection helps you reframe. I wasn't deficient when I made mistakes. I was learning; I wanted to play "real" music because I wanted to see myself as a "real" musician; I wanted more frequent feedback and I wanted to have opportunities to learn with peers along the way because those are helpful ways to learn.
Technology expands learning possibilities. I had a wooden metronome that I had to carry with me. Now you can pull one up online. I waited one week to get feedback on so many aspects of my playing and I had to take it all in aurally. Now I can get feedback and watch masters play any time I like. This helps me feel less alone, too.
Anything to add to these reflections on the learning process?