5 Ways to Achieve Big Goals with a Life Board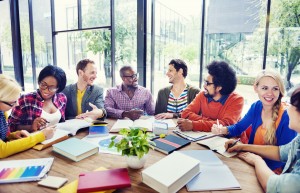 It all started over a decade ago. We were three educators working in different roles for the same organization. When we got together socially, we'd end up sharing big dreams and goals. While we didn't realize it then, we were in the process of forming a Life Board.
What's a Life Board? It's a group of goal-oriented people who voluntarily choose to share their goals and dreams with one other, in order to support and hold each other accountable.
Why do you need one? Well, achieving big goals and dreams can be hard. They often take a long time to realize (e.g., doctorates, leadership roles, writing books, etc.), and they can stir up some powerful emotions, like self-doubt and frustration. It can also be difficult to get the support you need from family and friends. They may not be able to envision who you want to become. That's where a Life Board comes in.
In our work together, we routinely provide each other with the following:
Support: We listen, reflect back, share resources, inspire, motivate, and provide empathy.
Feedback: We ask clarifying questions, provide a reality check, and challenge assumptions.
Accountability: We expect updates and progress and we push hard on procrastination.
Confidentiality: We keep it with the Life Board.
A Safe Space: We share it all. Nothing is taboo.
How does it work? Regular communication is key. When we lived nearby, we'd meet up in person. Now that we live in different parts of the U.S. – South, West, and mid-Atlantic – our meetings are virtual. But we attribute our success and longevity to two things – our check-in schedule and our focus.
The Schedule
Biweekly email check-ins, where we share updates on current goals and communicate new ones
Monthly, quarterly, and semiannual video conference calls, where we provide more in-depth updates and support
Texts and phone calls with individual Life Board members, anytime, as needed
The Focus
Share goals, updates, feelings, and obstacles
Request feedback, support, accountability, opportunity to celebrate
Share resources (e.g., names of Executive Coaches, books, blogs, podcasts, etc.)
Inspire and motivate
We are role models and mentors to each other, but we don't claim expertise we don't have. We're a board in the best sense, in that we share our networks, offer relevant support, and expect accountability. We also "regard dissent as an obligation, and . . . treat no subject as undiscussable," characteristics HBR's Sonnenfeld describes as key for great boards.
Who's on YOUR Life Board?