4 Ways Netflix, Uber, and 99Designs are Shaping How We'll Learn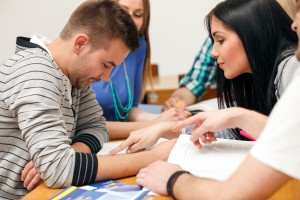 Starbucks should have failed. Two dollars for a cup of coffee? Naming conventions, like grande, venti, and trenta? Italian versions of coffee, like Americano, macchiato, and cappuccino? Alone, each of these changes would be a lot. Together? No way.
Instead, James Surowiecki, points out, "Starbucks changed people's idea of what coffee tasted like and how much enjoyment could be got from it." Just as Apple revolutionized the phone industry and Chipotle shook up the fast-food industry, Starbucks transformed the way people think about coffee, opening the door to "even fancier options." Surowiecki asserts, these companies "didn't just respond to customer demand; they also shaped it."
I'd argue that that's what Netflix, Uber, and 99Designs are doing when it comes to our expectations for learning. They've ingrained in us four habits that will make it harder to settle for traditional access and options.
Increasingly, we'll want learning to be –
on-demand. Abundance is a given. But, like Netflix and Uber, we want what we want when we want it. We want to access experts and thought leaders and teachers when we want them, not just when they're available and we have the resources to fly there or leave work early or register. If we can access a comedy or TV show or a car service on a moment's notice, why not learning? Right now, the closest we have for that kind of on-demand learning is Google. Platforms like Lynda.com are headed in that direction. (For a terrific article on the on-demand economy, check out, The Economist's, There's an App for That.)
unbundled. Netflix lets viewers watch anything they want from any device they choose. They solved the pain point of customers having to buy a bundle of channels, some of which they'd never watch, just to access the ones they really wanted. They also let viewers select films with the actors they want to see directed by the person whose work they admire. That doesn't happen in schools, even in college. Whether its taxes or tuition, or both, neither option ensures you'll get the teacher or course you want. That teacher's class may be filled and there may only be one section of that particular course or require a set of pre-requisites you don't have. MOOCs, General Assembly, Hackbright Academy, Meetups, and similar options are shaking up the landscape. It'll be interesting to see how it continues to change.
competitively priced. Amazon, WalMart, and Netflix have mastered the art of driving down prices. You can agree or disagree with their approaches – that's another blog post – but you can't argue with how accustomed we've grown to this level of access and affordability. Soon there may be learning platforms that curate learning vendors and learning designers for us. Pricing may correspond to demand, so that courses associated with high-demand jobs are more expensive than others. Variations on a learning experience may include in person, online, blended, flipped, half-day, one-week, 10-week, and so on.
crowdsourced. Companies like 99Designs connect customers to designers online for crowdsourced customization. If you only need a logo, you can go online, describe what you want, and how much you're willing to pay, and designers around the world will produce designs from which you can choose. In the past, you'd have to go to a design firm. The costs would be more expensive because they'd include many more services under one roof, like branding and marketing. Now, with crowdsourcing sites like 99Designs, you get on-demand service that's unbundled and competitively priced. This kind of option for learning means you could go online and request a certain type of customized learning experience from a global team of learning designers. How amazing would that be? It'd be like getting a customized learning playlist or mashup of learning experiences to meet your needs.
This isn't coming out of nowhere. We're shaping education by the expectations we have for buying products and services in other industries. And it raises a lot of questions. As educators, we're increasingly focusing on the world our students are entering – the skills they need to survive and thrive. Well, the next question is, what skills will we need to do the same in an industry that is rapidly changing, primarily because of the expectations we will continue to bring to it, and the ways other industries will continue to shape it?